Top 15 Things to do in Akureyri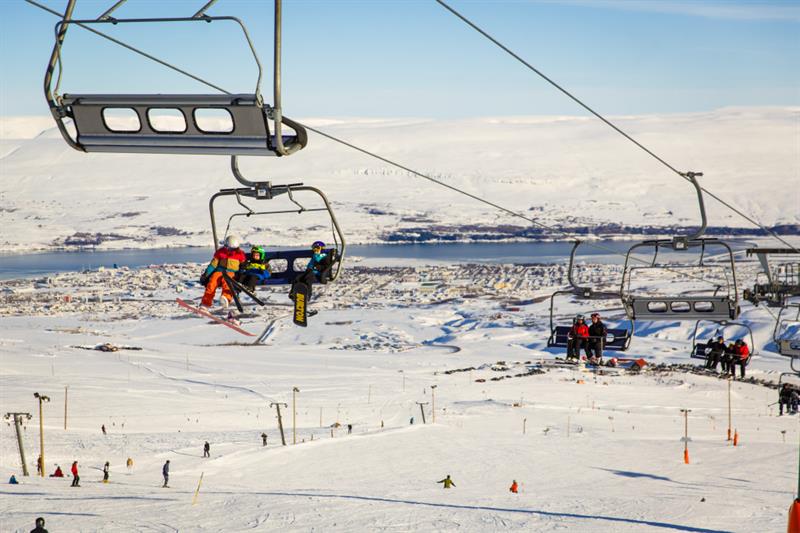 Top 15 Things to do in Akureyri
From https://www.heyiceland.is/blog/nanar/5224/top-15-things-to-do-in-akureyri
IN THE CITY ?
1. Visit Akureyrarkirkja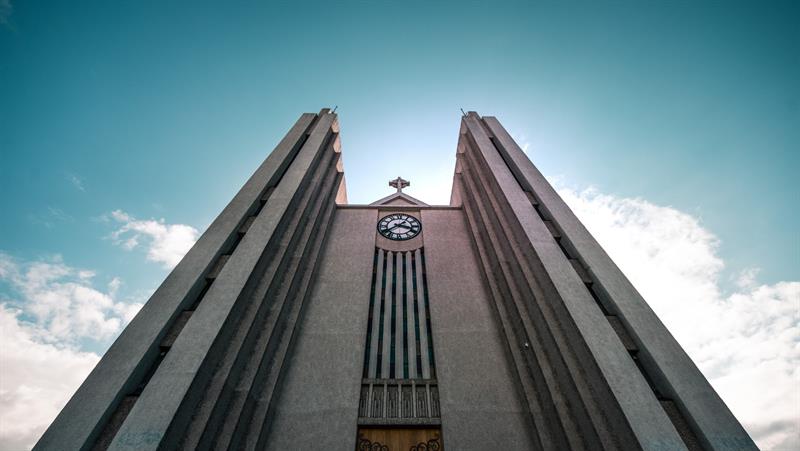 Perched high above town, Akureyrarkirkja Lutheran church is the work of the architect Guðjón Samúelsson, whose designs also shaped the Hallgrímskirkja in Reykjavik. Hence the basalt rock columns. The church, which was built in 1940, is home to a remarkable 3200-pipe organ. One of the church's most striking features is the beautiful central stained-glass window above the altar which once adorned Coventry Cathedral in England where it was partly destroyed in an air raid. The suspended ship hanging from the ceiling refers to the old Nordic tradition of giving offerings for the protection of fishermen at sea.
2. Check out the Arctic Botanical Garden
Akureyri Botanical Garden - © Nicola Pezzoli on Flickr
What strikes at first sight with Lystigarður Akureyrar, Akureyri's Botanical Garden, is the lovely sense of tranquillity. What's even more remarkable about this Garden is its extreme location, 50 kilometres only South of the Arctic Circle, easily one of the northern most botanical gardens in the world. And yet there, a stunning blend of Arctic plants, plants from the temperate zones, and from high mountains manages to grow and survive. The Botanical Garden is home to 7.000 species, of which Icelandic plants represent about 400. In wintertime, the Garden turns into an enchanting winter wonderland with trees bending with the weight of snow, a favorite stop for flocks of snow buntings.
3. Take a few laps in the local Swimming Pool
When in Akureyri, do as the Akureyringur do? Conveniently located a few minutes walk from the city centre, Akureyri's swimming pool is the ideal way to unwind after a day of sightseeing or just an excuse to try the country's longest slide, 86 meters of fun! Including two outdoor pools, pummeling water jets, water slides, splashpool, an indoor pool, a bunch of hot pots, paddling pool, steam bath and an extensive area for sunbathing, you will be spoilt for choice. A water paradise for all the family !
Price: 1000 ISK for adults and 250ISK for kids aged 6-17 years old.
4. Get an ice cream from Brynjuís
Isn't icecream the best thing after a swim ? Treat yourself at Brynjuís, known across Iceland for the best ice cream in the country. Often imitated, never duplicated ! It is something about their recipe unchanged since 1939, a soft serve milky ice cream covered in toppings of all sorts and tempting dippings. You won't find it anywhere else, and remember, it's never too cold for an icecream in Iceland.
5. Try Iceland's northernmost 18-hole Golf Course, Jaðar
Jaðar Golf Course is located in beautiful natural settings, in the middle of the countryside, and provides a rich palette of shrub and vegetation. Few golfers had experienced the delight of a game of midnight golf, until Akureyri Golf Club started the annual Arctic Open golf tournament, that gathers golfers from all over the world at Summer Solstice, for round-the-clock golf and unforgettable views of the sun mirroring in the fjord.
6. Explore Kjarnaskógur woodland area
Located South of Akureyri, Kjarnaskógur Forest boasts a wide range of short hiking trails and great playgrounds for all the family, and as such is Iceland's most visited forest. More than 1 million trees of many species were planted within the last 50 years, resulting in an immense recreational area of approximately 600ha. The forest hosts lighted and backcountry trails, along with an exciting 10km long designated mountain bike trail. During the winter months, conditions permitting, a 10km trail is made available for cross-country skiing. Aiming at a more relaxed experience ? Enjoy one of the two playgrounds, volleyball course, picnic areas, barbecue facilities, or the bird watching shelter by the Hundatjörn pond, for a moment in nature where time stands still.
… OR IN THE COUNTRYSIDE ?
7. Visit Jólagarðurinn, the Christmas House
🖈 Sveinsbær, 10 minutes from Akureyri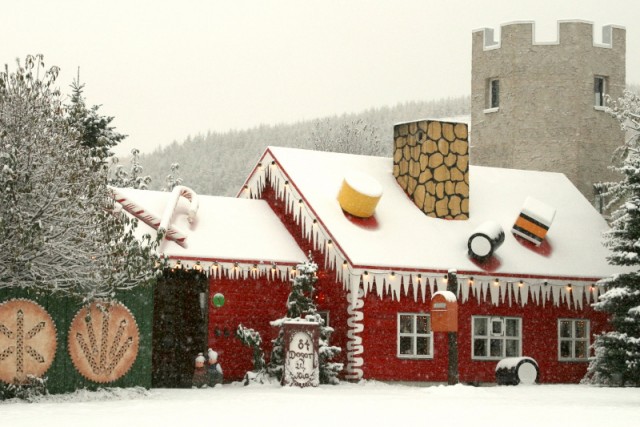 Jólagarðurinn - © Visit Akureyri
Once upon a time, only ten minutes drive from Akureyri, there was Jólagarðurinn, a bright red gingerbread house said to be Santa's house. As the fire crackles in the fireplace. Christmas carols and scents welcome those eager to experience the genuine Icelandic Christmas atmosphere. All year round. No matter the time of your visit, you will be charmed by the selection of Christmas decorations and traditional handicrafts. Extend the magic by visiting the garden around the house, where the world's biggest Advent calendar hides in a mini-dungeon. Do you see Santa's costume on the clothesline ? How many days til Christmas again ?
8. Visit Laufás turf houses
🖈 Laufás, 25 minutes from Akureyri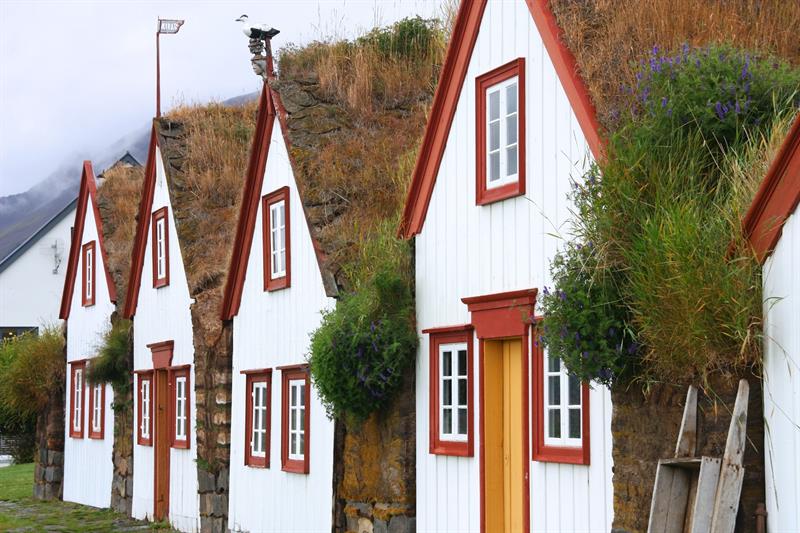 On your visit to the North, you should visit the Laufás picturesque and colourful turf houses, whose first historical record dates back to the settlement of Iceland (874-930), when it was a renowned church site and chieftain's residence. The church as you see it today was built in 1865 and although it has been recreated and furnished as a house from the early 20th century, it contains special items and timber dating back to the 17th century. The Visitor Centre welcomes you in a cosy atmosphere, telling you all about local wildlife, nature and history, with a selection of local handicrafts on display.
9. Soak in a Beer Spa
🖈 Árskógssandur, 30 minutes from Akureyri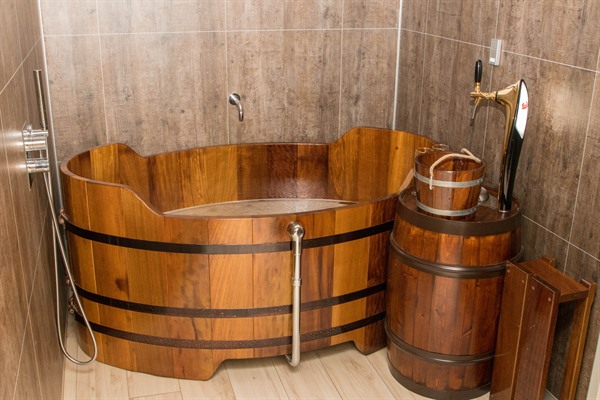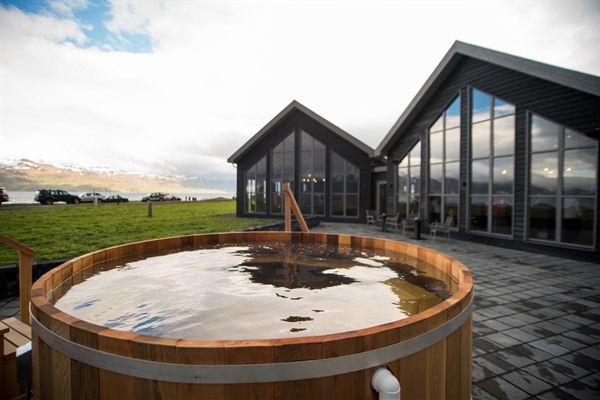 Beer Spa - © Visit North Iceland
This one is for all the beer lovers. Combine a relaxing spa experience with the natural health benefits that the yeast brings on this Beer Spa, and get to taste the Kaldi beer, brewed just next door. Sounds a little too weird ? Opt for the outdoor hot tubs, regular geothermally heated pools this time, offering panoramic views over Hrísey island, mountains and Þorvalds valley, or try the outside sauna.
10. Take a Cowshed tour at Kaffi Kú
🖈 Garði, 10 minutes from Akureyri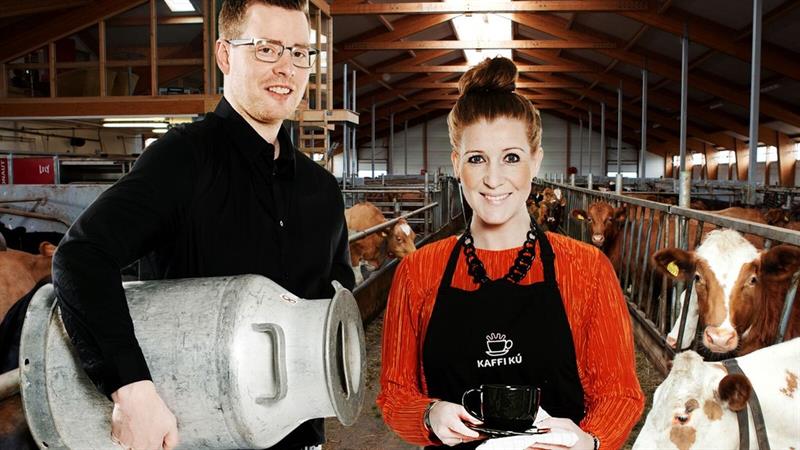 How often do you get the opportunity to sneak behind the scenes of a cowshed? Sesselja and Einar from Kaffi Kú, open their doors to visitors to share their passion for their animals and their concern for cows' welfare. From the restaurant, you can see what is going on in the farm in real time and witness various farming activities, from the milking to the cows massaging. Yes, you read right. The perks of being a cow in Iceland are obviously the wonderful surroundings provided by the Icelandic countryside! Get rewarded by a glass of fresh milk, and greet the calves.
… OR UP TO SOME EPIC ADVENTURE ?
11. Hit the Hlíðarfjall Slopes
🖈 Hlíðarfjall, 10 minutes from Akureyri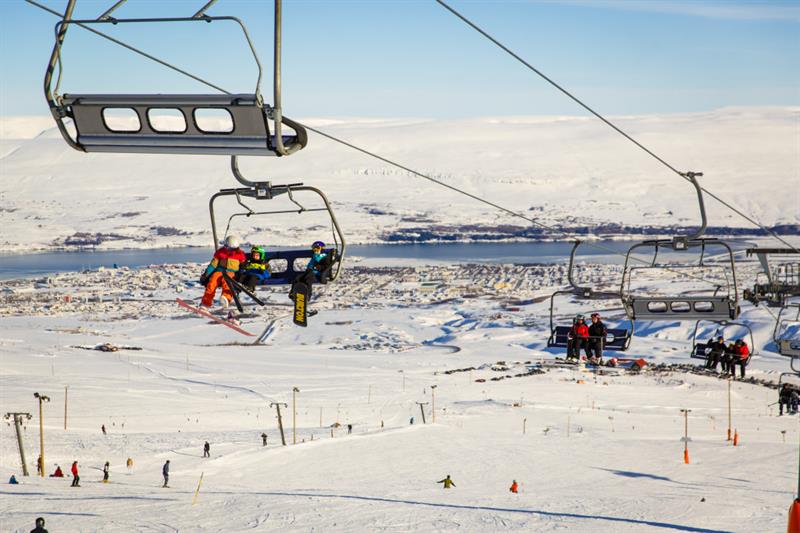 Hlíðarfjall in Akureyri - © hlidarfjall.is
For nearly 40 years, the mountain Hlíðarfjall has been one of the prime skiing areas in Iceland. No matter whether you are a first-timer or thoroughly experienced skiier or snowboarder, this day on Hlíðarfjall slopes will undoubtedly be one to remember. Fresh powder, groomed cross-country tracks and exciting ski slopes make for the best sensations. The elevation in the ski slopes ranges from 500m to 1000m above sea level, ensuring excellent snow supply in winter, and priceless views over Eyjafjörður, all the way to the Greenland Sea and Herðubreið, the Queen of Icelandic mountains. You may just want to stay there the whole winter !
12. Hike Súlur Mountain
🖈 Mount Súlur, 5-6 hours hike starting from Akureyri
Your visit to Akureyri is not complete until you do the hike up to the peaks of its guardian, Mount Súlur (1213m). Rising above the town, Súlur features a popular marked trail to the summit of approximately 5-6 hours back and forth. Not an easy hike, but from the top, you are rewarded with gorgeous views upon Akureyri and the Eyjafjörður bay, as well as mountain ranges on all sides. Súlur is mainly made of volcanic material like rhyolite, dating back to volcanic eruptions that occurred some 8-9 million years ago. The trail starts from a parking lot located in Glerárdalur valley, that you reach after a 3-4 km walk from Miðhúsavegur.
13. Dive and explore the world's only accessible hydrothermal chimney
🖈 Hjalteyri, 15 minutes from Akureyri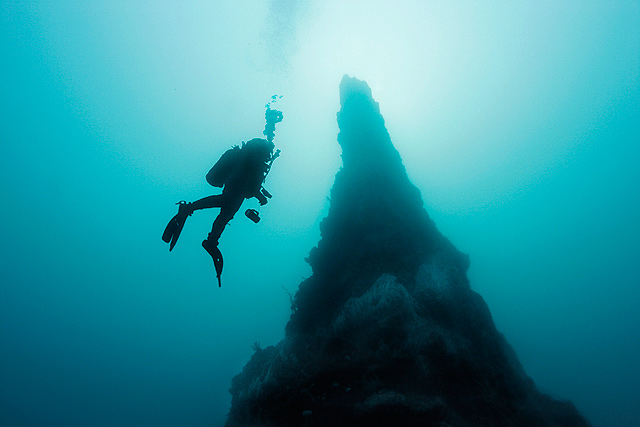 Diving in Iceland - © Strýtan DiveCenter
How about a diving expedition among some of the best-kept natural wonders in the North Atlantic Ocean ? In Strýtan, you can explore the only hydrothermal chimney that is possible for scuba diving discovered so far. Similar chimneys have been found at 2000 – 6000 m depth, so it is exceptional to find them on such shallow depth. Strýtan chimneys rise from 65m up to 15m, and are still forming in some places, with continuous 11-000 year old freshwater coming from the chimney. This adventure requires advanced diving skills and can only be done with a guide as the site is protected. The idea that early life on earth might have started with hydrothermal vents million of years ago…
14. Go Whale watching
🖈 Hauganes, 20 minutes from Akureyri 🖈 Hjalteyri, 15 minutes from Akureyri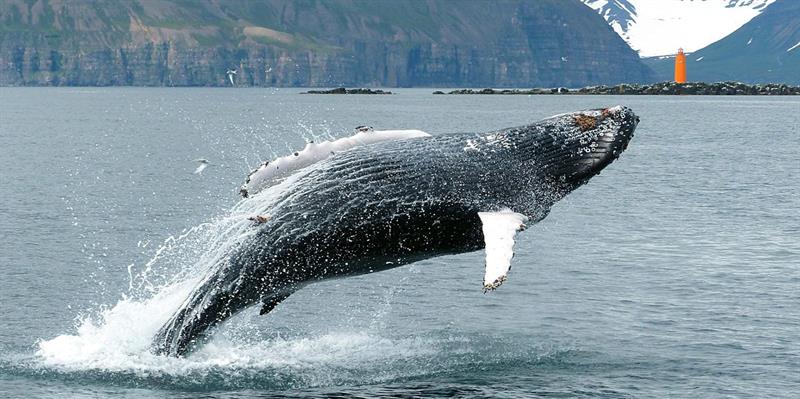 Although Húsavík is the designated Capital of whale watching, there are many other spots to observe the big giants and if you are staying in Akureyri's vicinity, this is your chance ! We can highly recommend this Whale Watching tour departing from Hjalteyri, a well-kept secret of Eyjafjördur, once home to a large herring meal and oil processing factory. We also recommend the Whale Watching & Sea Angling tour, departing from Hauganes.
15. Go Horseback riding
🖈 Skjaldarvík, 15 minutes from Akureyri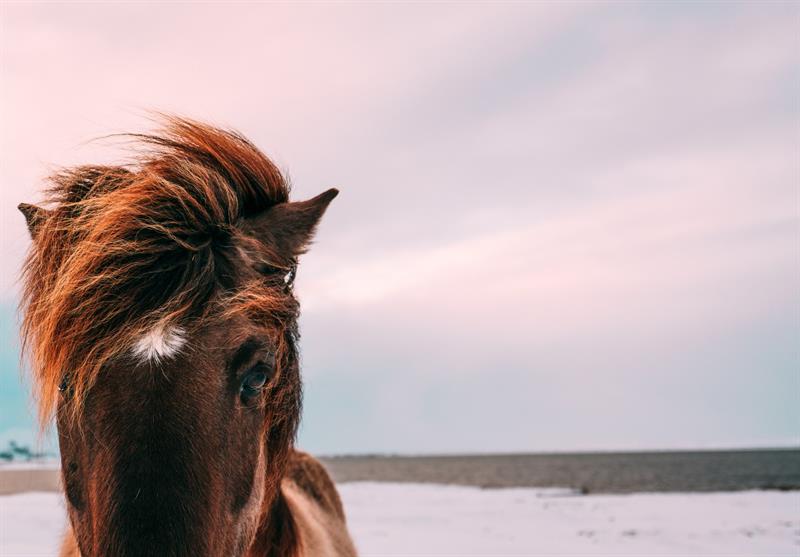 Skjaldarvík has this power of making you forget that lively Akureyri town is only 5 minutes away. Besides being a cosy family-run guesthouse, Skjaldarvík operates an exciting range of activities for families and adventure seekers, of which we absolutely recommend horseback riding tours, for a unique way to explore the surroundings, both along the coast and inland.
Back