Do's and Don'ts of Iceland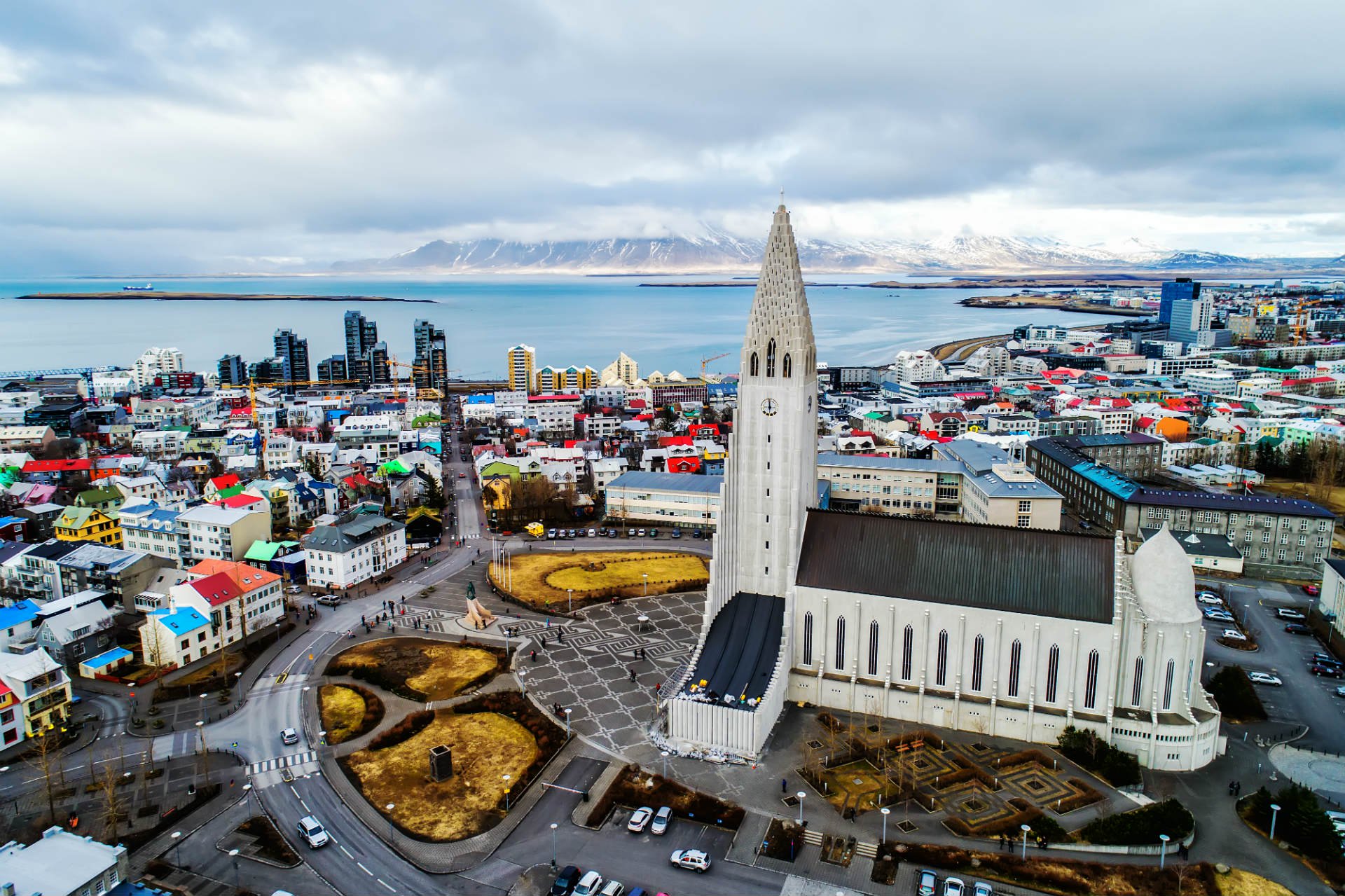 From our frindes at Hey Iceland:
Keep this list of Do's and Don'ts of Iceland in mind while traveling around this lovely country and you will have one safe and enjoyable trip to Iceland!


Do: Use good judgment when exploring
Starting this list off with your safety in mind. Something about Iceland makes people steer towards the reckless side of life and do things that they would not do in their home country. Unwise decisions such as going too close to the edge of a steep cliff or waterfall, exploring a glacier on their own, or thinking that wandering off the marked path at a popular attraction is a good idea. You wouldn't do something this dangerous in your own country, so don't forget your good judgment back at home and ask yourself if hopping over the rope is really the best idea.
Do: Take a road trip
To get the full experience of Iceland you need to get out in the countryside and experience the beauty of the raw nature found here. Don't make the mistake of staying in only the capital city of Reykjavik, there is far more to discover in Iceland outside the city limits.
Feeling a bit overwhelmed by the idea of planning an Icelandic road trip? Use our Driver Guide and you will be cruising along the Icelandic roadside with no worries other than how many more pictures you can take before your camera's battery dies.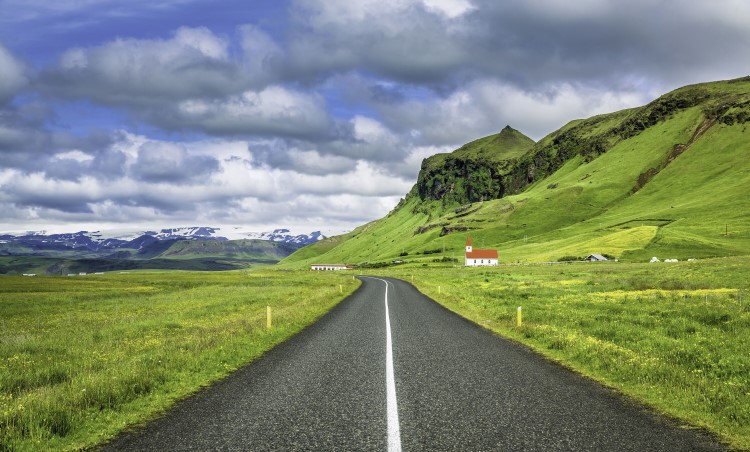 Don't: Drive off-road
While on that epic Icelandic road trip please don't attempt to drive off-road. The main roads in Iceland are well marked so there should be no confusion on what is considered "driving off-road". Not only can it be a very dangerous activity to drive off-road, it can cause serious damage to the Icelandic nature that can take years to recover. So respect nature and stick to the main roads.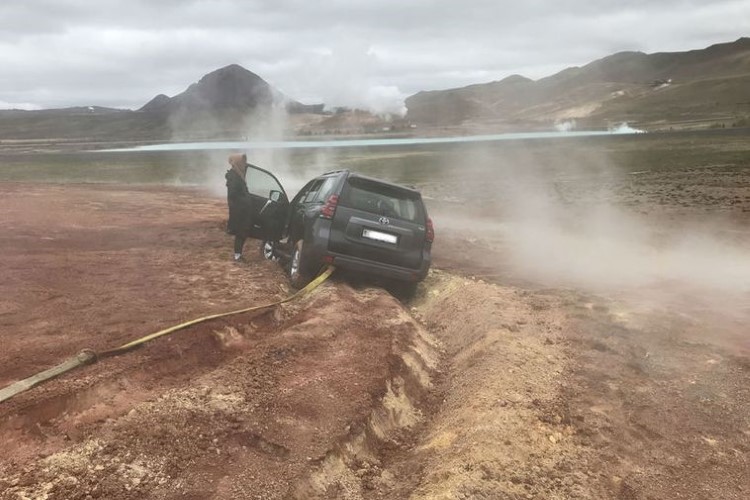 Source: Iceland Monitor
Don't: Stop in the road to take pictures
We get it, the Icelandic landscape is so picture-perfect you can't help but want to pull out your camera around every corner. But please, don't do it! Refrain from stopping the car and pulling out your camera until you have found a safe place to park the car off the road.
Too often you will come across someone stopping their car right in the middle of the road so they can hop out to take a picture. You might think it will be just a few seconds and you haven't seen another car for ages, but all it takes is a few seconds for a car to come around the corner and turn things into a dangerous situation. So when you see a picture-perfect view keep a lookout for a safe area to pull over that will keep yourself, and other drivers, safe during your photography stop.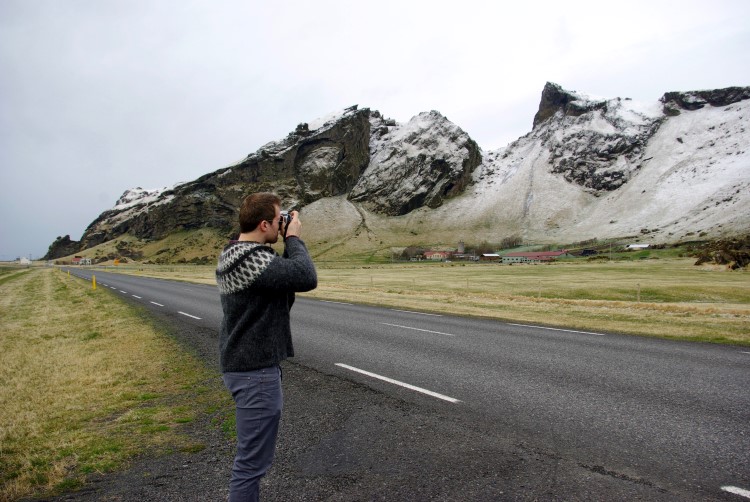 Do: Be prepared to change plans
No matter what time of the year it is you never know when a storm will hit Iceland. And these storms, they are not the type of storms you want to be wandering about in. You do not want to head off for a big road trip or attempt a long hike in these kinds of weather conditions, it is both not safe and not very enjoyable.
Having a flexible mindset when preparing for your trip to Iceland will make you well prepared for if a stormy day does hit requiring you to move your plans around. Just know that it can happen, and it's best to come prepared with some backup ideas instead of ruining a whole day with a gloomy mood.
Don't: Overschedule your trip
With so many sights to see it can be easy to quickly pack your Iceland schedule to try and fit it all in. Don't! This is not the way to experience Iceland. You don't want to have only a ten minute slot to jump out and see the waterfall just so you can cross it off your list. Give yourself plenty of time to see that waterfall, and walk around the area a bit as you never know what other gems you might find (like a second waterfall).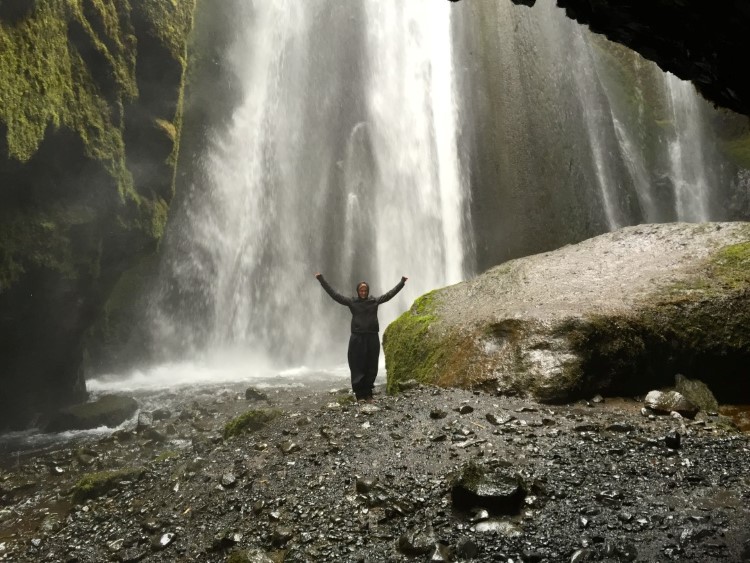 Gljúfrabúi, one of the "hidden waterfalls" in Iceland, located near the famous Seljalandsfoss waterfall.
Rushing from one place to the next will make your Iceland trip feel like a constant blur of waterfalls and mountains, and lots of driving. So do yourself a favor and embrace the slower pace of travel for this trip, the adventures you may wander into will be more memorable than the packed schedule.
Do: Be aware of what the daylight hours will be during your trip
This might seem like a strange one, but hear us out because it is an important "do" when visiting Iceland. The time of year you will be visiting Iceland will not only bring very different weather, but it also will have a different amount of daylight hours that can affect your trip planning.
With only 4 hours of daylight during the winter months, you may need to rethink your plans for that 10-hour outdoor adventure you hoped to fit in. And you might want to rethink your idea of seeing the Northern Lights in Iceland on your visit in June as the only thing you are going to be seeing in the night sky is sunshine when there are almost 24 hours of daylight thanks to the Midnight Sun.
Iceland may be one of the few places you travel to that you will need to know the sunrise and sunset schedule but you will be glad you checked when you arrive ready to sleep through the Midnight Sun or chase the Northern Lights.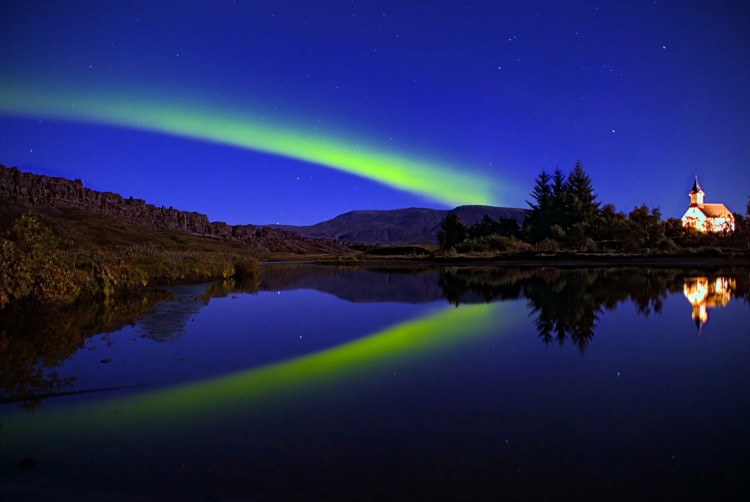 Don't: Forget to pack weather appropriate clothing
Coming to Iceland in July and think shorts and sandals are all you need? You might want to update your packing list to include items such as rain gear and a sweater. Always check the weather for the time of year you will be visiting Iceland so you can arrive prepared with the appropriate clothing. Exploring the sights in November will be much more enjoyable in your winter coat versus your trendy Autumn sweater, and a little summer rain won't stop you from hiking in July when you have waterproof gear to toss on over your t-shirt. Like they say in Iceland, "there is no such thing as bad weather, only bad clothes."
Do: Pack your bathing suit
Speaking of packing appropriate clothing, your bathing suit is a must-pack no matter what time of the year you are coming to Iceland! A bathing suit may not be what first comes to mind when you are making your Iceland packing list, but trust us, you are not going to want to miss out on enjoying a swim or two while here. Whether you plan on visiting the famous Blue Lagoon, a local pool, or hiking to a hot spring in the mountains, you are going to want to remember your bathing suit.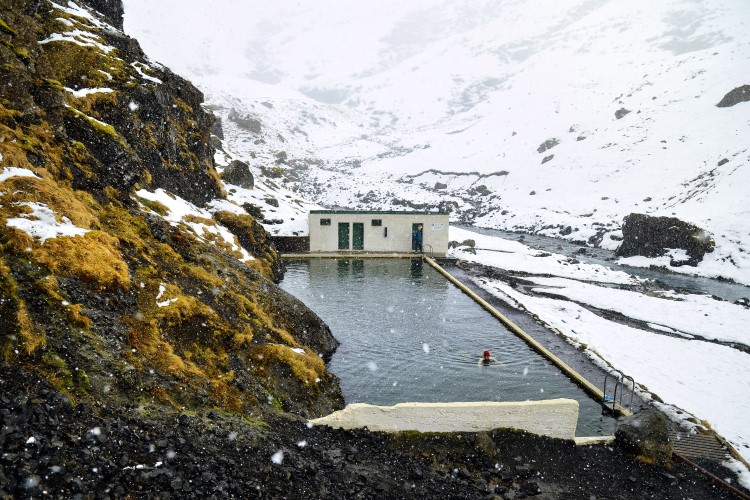 Don't: Forget to take a shower before entering the pools
It might be uncomfortable but taking a shower before putting on your bathing suit and entering the pools is an important part of Icelandic culture. Everyone is doing it so have no fear that people will be staring. In fact, the only reason someone would stare is if you try and skip out on the shower and head straight to the pools. This is a major no no in Icelandic culture, so respect the rules and embrace the nakedness, the pools are worth it.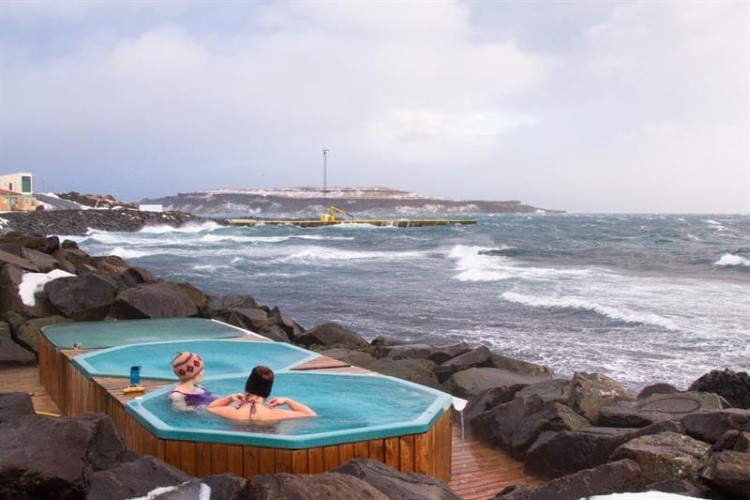 Source: westfjords.is
Don't: Wait too long to book accommodation
Hotels, guesthouses and other accommodation options seem to be appearing everywhere you look in Iceland so you would think you have plenty of time to book your stay. Think again! Even with all the new accommodation being built supply has still not reached demand so accommodation books out quickly and early. You don't want to end up paying a crazy amount of money for one night in a tiny room in the middle of nowhere, nor do you want to have to miss out on seeing a region of Iceland because you can't find anywhere to stay. So add to the top of your Iceland planning list, book accommodation, and you will be able to rest easier once that is all taken care of and start the really fun planning, like all the activities you can do in Iceland.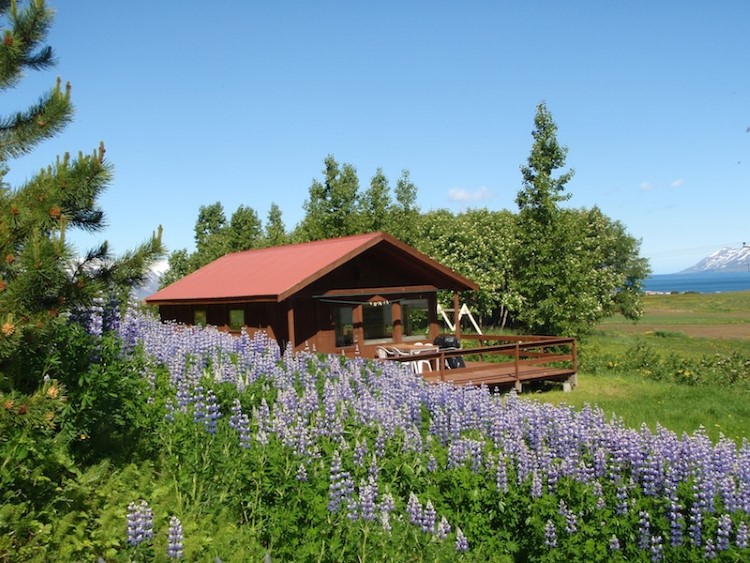 Do: Consider doing a farm stay
Make your time in Iceland extra special and consider a farm stay accommodation option. A farm stay is a unique way to truly experience Icelandic culture and get to learn directly from the locals, all while enjoying the convenience of a regular hotel. Not only will you be staying in an idyllic setting, you will get to learn about life in Iceland and the local traditions, as well as learning about all the best places to visit from those who know best, the locals! This will make for one overnight stay you won't forget.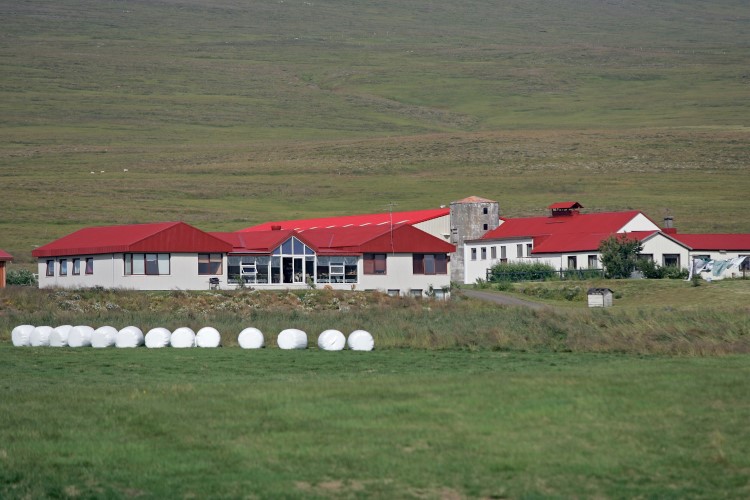 Do: Spend some time with Icelandic animals
While Iceland may not be known for having many native animals we certainly have some adorable ones that call this country home. From friendly horses to charismatic puffins, reindeers and whales, there are all kinds of animals to say hello to while in Iceland. There are many different activities you can do that involve these lovable creatures as well. Spend the day learning about Icelandic farm life during a farm visit, or head off for a horseback riding tour or whale sightseeing tour. Whatever you do, just be sure to at least say hello to the lucky animals that get to call the Icelandic nature home.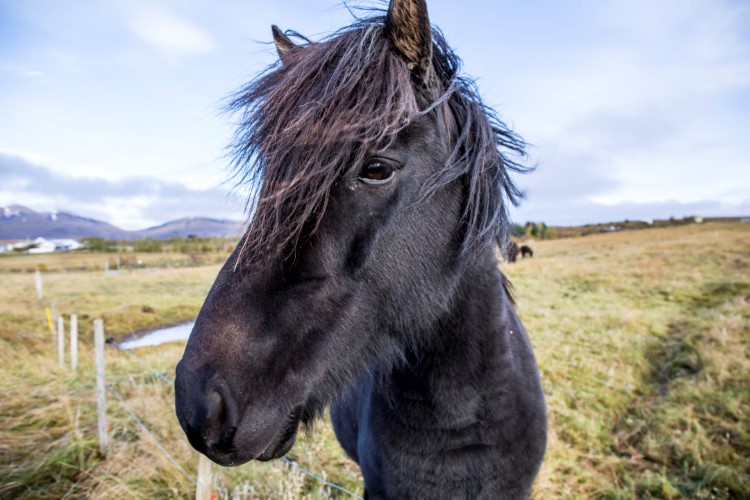 Don't: Buy bottled water
The water straight from the tap in Iceland, it is some of the purest spring water available in the world! Don't be fooled by all the fancy packaged bottles of "Icelandic water" there is no need to spend your money on that. Just fill your cup up directly from the tap and you will be in for a refreshing beverage.
Don't: Be afraid of the Icelandic cuisine
When you first google "traditional Icelandic food" you are going to hear about some pretty scary-sounding dishes. Things like rotten shark and boiled sheep head may appear in your search of things to try in Iceland. Don't worry, it is not all sheep heads and fermented foods in Iceland! In fact, the modern Icelandic cuisine, it is actually full of fresh fish and lamb with a focus on using local products. So don't let the old Viking diet scare you off, you will be in for a tasty treat with modern Icelandic cuisine.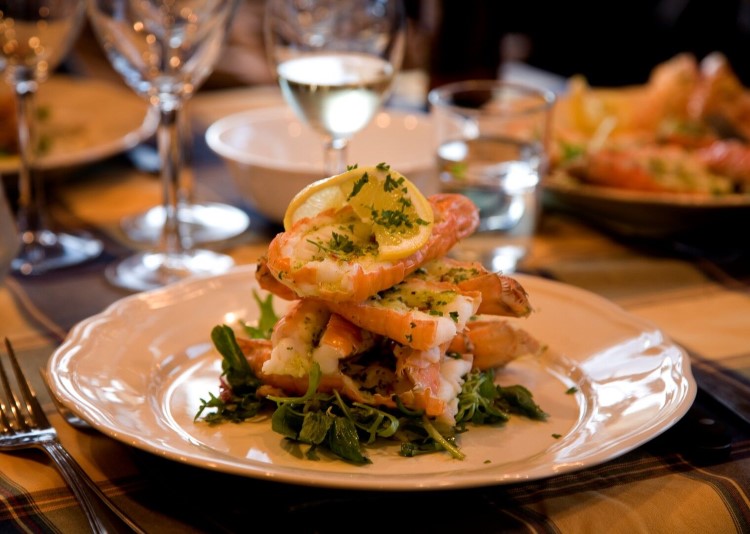 Do: Come prepared for higher prices
It is no secret that Iceland is not a cheap place to visit. In fact, it is one of the most expensive countries in the World. But don't let this fact scare you off from visiting. Instead keep this information in mind when planning out your trip so you can properly budget, which is much better than being shocked and annoyed when you arrive in Iceland and realize the expensive costs.
While it may be a pricey place to be there are plenty of ways of keeping to a reasonable budget. First off, Iceland's main attractions are nature, and most of these stops are completely free! Secondly, our wide range of accommodations will allow you to find one that fits your budget and your needs! And lastly, while a fancy dinner out can come with a hefty bill you will never be too far away from a delicious and cheap Icelandic hot dog.
Don't: Buy touristy souvenirs
A quick glance around downtown Reykjavik and you will see a handful of shops selling Icelandic souvenirs, easily recognizable by the large stuffed animals puffins bins they tend to have outside. While they have some great items inside this is not the only place to get Icelandic souvenirs. Head down to the local flea market on the weekend and get an authentic Icelandic wool sweater, you will likely buy it directly from the individual who knitted it! Or go for a souvenir that has a close tie to Icelandic culture and buy a book by an Icelandic author. Did you know 1 in 10 Icelanders will publish a book? What a great way to bring home a piece of the Icelandic culture with a book by a well-loved Icelandic author!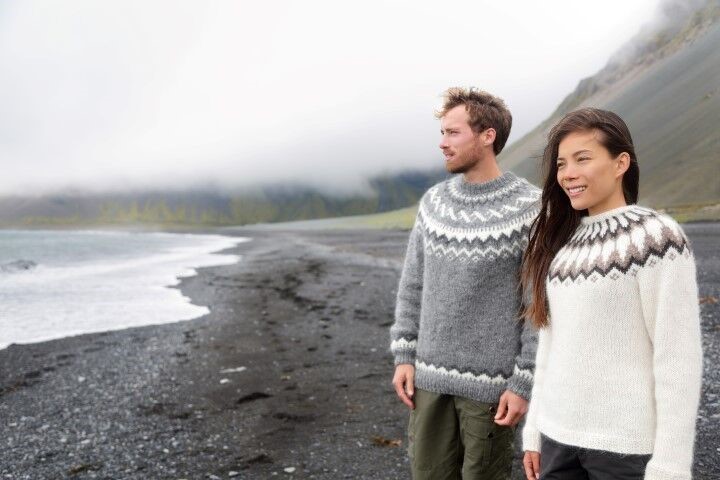 Lopapeysa, Icelandic wool sweaters, make a great unique Icelandic souvenir
Do: Be conscious of your impact on the Icelandic nature and society
Our final do is heavy loaded, but an important one. Iceland is a country with a population of only 340,000 and tourism is a relatively new industry here. In recent years Iceland has welcomed over a million tourists annually, that is a lot of new faces on a small island. While Iceland is doing the best it can to keep up with the increase in demand and need for different types of infrastructure there are many things that are still a work in progress. This means each person who comes to Iceland can have an impact, making it important that each of you who visit are aware of the impact you have on both nature and society here. Just one person can have a positive or negative impact, and it seems to take only one breaking the rules such as climbing over ropes, for others to follow. So please, respect the rules and do your best to leave nature as you found it.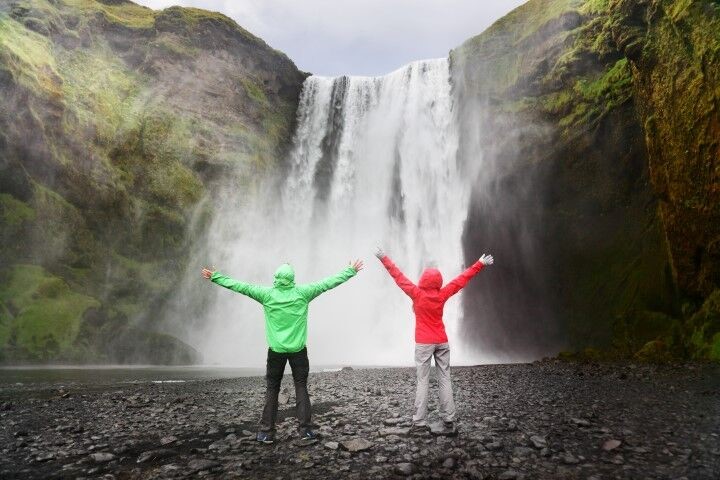 With this list of dos and don'ts you are well on your way to having the most epic Iceland adventure. And while you are out having the best time in Iceland share your experience with us @heyiceland and #heyiceland!
Back